Your Questions Answered...
How Do I Scrap That?
How Do I Scrap That? Admit it...(I won't tell)...there have been times when you're staring at a stack of pictures and have no earthly clue how to proceed.
I've received many questions from fellow scrappers who just don't know how to tackle a project - no matter how big or small. So, I've decided to share some of my ideas on how to tackle certain problems, in hopes that it might help someone else get over Scrapper's Block.
Enjoy!


---
Question: I want to make an inexpensive scrapbook for my children that will last forever. How do I scrap that?
My thoughts...
In the truest sense of the word, a traditional (paper-based) scrapbook will never last forever, but you can take steps to make it last for a very long time. Primarily, you need to ensure that all of the materials (scrapbook, paper, adhesive, etc.) you use to create your scrapbook are archival and acid-free.
Fortunately, that is easy to do, as most scrapbook supplies these days are created to be archival and acid-free. To protect your investment against fire, water and other unforeseen damage, I would recommend scanning your finished pages and burning those images onto a CD. That way, should anything happen to the original scrapbook, you have a digital copy that will last forever.
As far as keeping costs down, my primary recommendation would be to keep your embellishments to a minimum. As nice as they look, they are the most costly component of a scrapbook layout. Keep your focus on your pictures and journaling, and create visual interest by using quality cardstock (e.g., Bazzill Basics) and some patterned paper. Using this approach should keep your layouts to under $2.00/page.
Happy Scrapping!


---
Question: I want to create a scrapbook-like album for my toddler, but I'm not sure what to do. How do I scrap that?
My thoughts...
This one is real easy to do and you can use this template for just about any set of pictures that you don't want to put in a traditional scrapbook.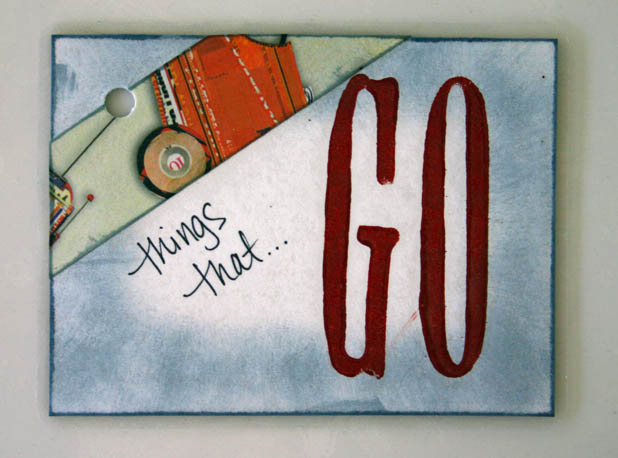 For my sons, I built a scrap "picture book" using basic cardstock, some patterned paper, laminating sheets (these are toddlers we're talking about), a loose-leaf ring and some ribbon. In my example, the title is "Things That Go," since they are fascinated with anything that has two or more wheels.
I think the hardest part was getting pictures of all the things we see every day - it's not exactly easy to get a picture of a school bus in the middle of summer. But, once I had a good set put together, I ordered wallet size prints of each of them.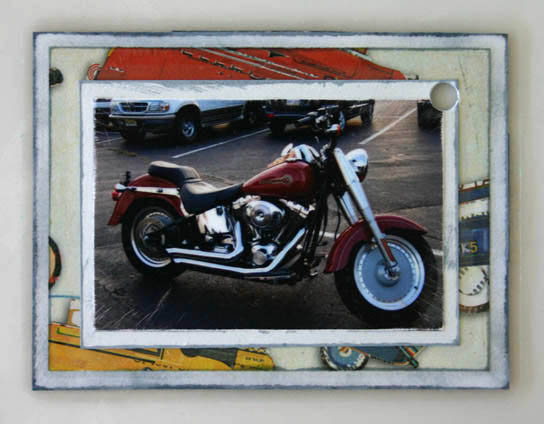 I then created three mats for each of the pictures in the following sizes:
2.25" x 3.25" (cardstock)
2.75" x 3.75" (patterned paper)
3" x 4" (cardstock)
It's your choice as to whether or not you make each "page" double-sided, but I did since I wasn't going to be writing out the names of the vehicles too... that's for another picture book.
I inked up the edges of all the mats and then assembled them. Once the adhesive set, I punched holes in the appropriate places, before laminating. I highly recommend you do this, as it was hard enough to punch through two to three sheets of paper, let alone laminate.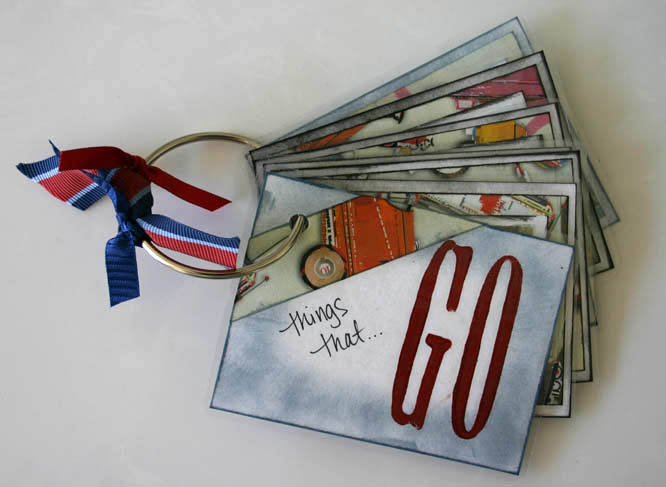 Laminate each page, cut off the excess laminate, put the pages on the loose-leaf ring and add ribbon, as necessary.
As you will see, I used a generic loose-leaf ring from an office supply store, but Junkitz makes great loose-leaf rings in a variety of colors, if you prefer that (and I don't really think there is much of a cost difference). The only thing to make sure is that the ring isn't too small given the number of pages you plan to have. In my example, I used a two-inch ring.
The jury is out on whether laminating is the way to go as far as protecting these pages. I chose to laminate them because I'm sure my two-year olds would have figured out how to pull the pages out of a badge protector, but that is another option if your not as worried about protecting the final product.
Happy Scrapping!


---
Question: How do I create a scrapbook that would be based around at least 150 pictures (annual event and pictures covered several years) and needs to be easily replicated for multiple families within the same neighborhood?
My thoughts...
You're going to want to go with a 12x12 album. With at least 150 pictures, you're going to (1) need as much space as possible on the page and (2) have at least one, and maybe two, two-page layouts per year. This will get you to at least 20 scrapbook pages.
Option #1. If each family wants to make layouts with their own pictures and then make copies of the layouts to share (which was this person's original thought), you can go one of two ways.
(1) You can find a store that can make that size reprint on archival paper.
Depending on where you live, you may have a scrapbook store that can make color copies of your scrapbook pages for you. You can get a color copy of scrapbook pages at Recollections for $1.79/sheet. I have also heard that you can do the same thing at Archiver's stores, but it's more expensive. If you assume that you will end up with about 20 scrapbook pages that will run you about $36.00 (at the Recollections price) not including the cost to make the initial scrapbook.
(2) I've also read about a website where you can ship your paper layouts to have copies made. It's called Scrapbooks To Share. It runs about $1.75-$2.25/per page, if you end up making 12x12 pages and $1.25-$1.75/per page, if you make smaller scrapbook pages.
Option #2. My recommendation, so that all involved would have a scrapbook, and not just a copy, is to do the following:
Given the scale of the project, I think the best way is to approach this like a circle journal. A circle journal is a journal or scrapbook that is circulated between friends and typically based on a central theme.
As the scrapbook is mailed from person-to-person, they add their own pages - composed of just journaling, just pictures or a combination of the two. The goal is that once the scrapbook has been passed around the entire "circle", each of the friends will have created a scrapbook page about the particular theme from their perspective.
You won't necessarily need to mail the scrapbooks to each other, since you all live in the same community, and you will probably make more than one page given the number of pictures you have.
You may even choose to do something similar, but instead of taking months to work on the layouts by passing it around, you set one night where you all get together and each person will make seven layouts based on their pictures. It's the same layout made seven times.
I do something similar for my parents and in-laws when making scrapbook layouts of my sons. I'll design one layout and then make it three or four times, so everyone can have a copy. It sounds hard, but it's kind of like making cookies. The real effort is in making the batter (in this case, the layout design) and once that's done it's just a matter of repetition.
Option #3. You could combine a little bit of both and create digital layouts – you create one layout and then you all have a copy to display on your computer or print out. That way, you're not stuck with the original layouts that you made yourself and copies of all the other layouts.
Hope this helps. Happy Scrapping!!