The Scraptionary
Welcome to our Scrapbook Dictionary or what we like to call The Scraptionary! New to scrapbooking and not sure what the difference is between a Xyron® machine and a rotary cutter? Well, you've come to the right place. Click on any letter below to get comprehensive definitions and examples and make "learning" scrapbooking fun!
As with anything of this magnitude, this is clearly a work in progress, since there are hundreds, if not thousands, of terms that are specific to scrapbooking. We will continue to update this page as we come across more terms and receive questions from our customers. Enjoy!

A - B - C - D - E - F - G - H - I - J - K - L - M - N - O P - Q - R - S - T - U - V - W - X - Y - Z
Acid-Free: Commonly referred to when discussing scrapbook paper (cardstock or patterned paper). Acid-free means that the pH factor is typically 7.0 or higher, which helps to prevent deterioration and discoloration.
Accordion Cardstock: Cardstock that is folded, accordion-style, into a mini-scrapbook. It typically comes in 4.75x3 and 5x5 sizes.
Archival: A term used to describe a product whose composition has been determined to be safe for the preservation of artifacts (photographs, documents, etc.). It is important to look for scrapbooks, paper, glue and other embellishments that are of archival quality.
Archival Mist®: This product makes any paper acid free (works on newspaper, birth certificates, etc.). It comes it two sizes 1.5 oz., which covers about five 12" x 12" scrapbook pages, and 5.3 oz., which covers about 25 12" x 12" scrapbook pages.
---
Baby: The birth of a child is a great motivator to start a new baby scrapbook - what better way to show off your new bundle of joy, or new grandchild! Of course, the prospect of scrapbooking can be daunting…to someone looking for the outside in. What size scrapbook to use? What kind of adhesive should I use?...and probably one of the hardest of all… How do I arrange all my pictures (in other words…how do I make a layout)? Click here to learn more!!
BOM: Messasge Board shorthand for "Book of Me" (a scrapbook featuring your stats, likes, dislikes, etc.). Also known as an "All About Me" book.
Brad
: Similar to an eyelet, a brad comes in a variety of shapes and colors, but is secured to a scrapbook page via prongs that are pushed through the paper and then flattened.
CLICK HERE for instructions on how to attach a brad.
---
Chipboard: Chipboard is not a material unique to scrapbooking. In fact, it has been used for years as a reinforcing material in document mailers or backing for notepads.
Chipboard is similar to cardboard in that it is a tan-colored, pressed fiber material, but chipboard is stiffer than cardboard. NOTE: Most of the time chipboard is not an archival material, so make sure that if you use it for scrapbooking purposes, that it is acid-free.
Chipboard pieces can be purchased "bare" and painted, inked, sanded or covered in paper to match your layout, or purchased as a pre-made embellishment or alphabets. Chipboard embellishments and/or alphabets are often used in scrapbook layouts to give the page visual interest or added dimension.
Circle Journal: A journal or scrapbook that is circulated between a group of friends and typically based on a central theme (colors, friendship, travel, etc.).
As the journal is mailed from person-to-person, they add their own pages - composed of just journaling, just pictures or a combination of the two. The goal being that once the circle is complete, each of the friends will have a created a scrapbook page about that particular theme. Not only does it help to keep friends in touch, but it helps to create a lasting memories about our friends' characteristics (in their own words).
Circle Scissors: Manufactured by EK Success® - It uses a modified craft blade (called a rotating pen blade)and a rotating plastic disc to accurately cut circles in over 120 sizes. Sold with or without a glass cutting mat.
CKC: Creating Keepsakes Scrapbook Conventions
CKU: Creating Keepsakes University
Color Scheme: A combination of colors. Color schemes are a critical part of scrapbooking, as they help to determine

which colors of cardstock/patterned paper you will use in your layouts. Some color schemes include monochromatic, analagous, complementary and triadic.
Color Wheel: A visual (circular) representation of the colors in the visual spectrum. A basic color wheel is composed of the three primary colors, three secondary colors and six tertiary colors.
CLICK HERE for more information on colors and the color wheel.
Craft Punch: See punch.
---
Decorative Scissors: Also known as paper edgers, these scissors cut a variety of designs along the edge of a piece of paper. They're great for adding a little something to photo mats, cards and invitations. Popular manufacturers are Fiskars® and Provo Craft®.
NOTE: The Provo Craft scissors are quite a bit cheaper than Fiskars (usually around $1.00 instead of $4.00 plus) and come in some different patterns, but "you pay for what you get".
Decoupage: The technique of decorating an item with pieces of paper. The paper is adhered to boxes, candy tins, chipboard letters using a sealant such as Mod Podge®.
Diamond Glaze: Made by Judi-Kins, this is a clear glaze that you can use to give your embellishments some added dimension (dries with a glass-like finish) or to adhere "tricky" embellishments. Very similar to Glossy Accents.
Die: A metal form used to cut precise shapes or images out of a piece of paper, foam, etc.
Die Cut: Traditionally, a piece of paper that is cut using a die. They come in a variety of shapes and sizes and can be purchased as pre-cut pieces or cut by hand using either a punch or die cut machine (Sizzix, QuicKutz, Cricut, Cuttlebug, etc.)
Dye Ink: This type of ink has a thinner consistency than pigment ink and, as a result, will not stamp the same color as the ink pad (check the ink pad cover for the actual color). Dye ink is also not as fade resistant (color won't stay true) as pigment ink, so scrappers tend to prefer pigment ink for their scrapbook pages.
---

Edge Distresser: A tool (typically a blade) used to "junk up" the edges of cardstock, photos, etc. This one cost me less than a dollar (Tim Holtz sells a "Paper Distresser" that is $6.00 and does the same thing). Personally, though, I find I get the best effect when I just use a regular old emery board or some sand paper.
Embossing Ink: A slow-drying ink that is used in heat embossing process. It is slow-drying so as to provide you with the time to stamp the image as well as apply embossing powder. Embossing ink is traditionally clear or slightly tinted pink, but most slow-drying inks will work as a base for embossing powder.
Embossing Powder: Colored granules that are used in the heat embossing process. Embossing powder is applied to a surface stamped with embossing ink and then melted using a heat embossing tool to create a slightly raised image.
Epoxy Sticker: A sticker with a clear, hard plastic coating that forms a "bubble" on top giving the sticker a 3-D effect.
Eyelet: Sometimes called a grommet, this is a metal embellishment that reinforces a hole that has been punched in the paper. They come in a variety of sizes (1/8", 1/4" or 3/8"), a variety of colors and a variety of shapes (the typical round shape, square, flowers or hearts). In the past, eyelets have been set with a hammer and eyelet setting tool. In recent years, several manufacturers have come out with automatic eyelet setters that have made setting eyelets easier and quieter.
---
Focal Picture: In multi-picture scrapbook layouts, this is the image that you want everyone to notice. You can put emphasis on your focal picture by using a larger image size (5" x 7", 8" x 10", etc.), placing the photo on multiple mats, framing the photo with a sheer or metallic frame, or accentuating the edges of the photo with embellishments (ribbon, buttons, etc.).
---
Glossy Accents: Made by Ranger Inks, this is a clear glaze that you can use to give your embellishments some added dimension (dries with a glass-like finish) or to adhere "tricky" embellishments. Very similar to Diamond Glaze.
Glue Dots
: Double-sided adhesive that can be used for a variety of purposes. Regular glue dots come in several sizes (3/16", 3/8", 1/2"), while specialized glue dots are available for use with vellum, pop-up glue dots for 3-D embellishments and glue lines for ribbon and thin strips of paper.
---
Heat Embossing: A process that uses stamping and a heating process to create a raised image. Instead of using traditional ink to stamp an image, embossing ink is used to create a clear template of the image. Embossing powder is poured over the image and then melted using a heat embossing tool. This is a great way to add accents to scrapbook layouts and/or cards.
Heat Embossing Tool: A heating element (very similar to a hair dryer) that is used to melt and set embossing powder.
Hexadecimal Code: Numerical system by which colors are identified on the web.
Hue: Pure color (e.g., blue). A hue has had no black, white or gray added to it.
Hybrid Scrapbooker: No... This isn't a scrapbooker that runs on alternative fuel and gets to drive on the HOV lanes. This is an emerging group of scrappers that not only create scrapbooks in the traditional sense of the word, but also create digital layouts. Those of us who love the ease of digital scrapping, but still love working with our hands!
---
Journaling: The story (who, what, when, where and why) behind the pictures you are displaying. Journaling on your scrapbook pages helps to not only "bring the pictures to life", but also serves as a historical record for future generations.
---
Layout: A page in a scrapbook. The size of the layout can vary depending on the size of the paper (6x6, 8x8, 8.5x11 and 12x12 are just a few examples). Layouts are typically composed of pictures, journaling and embellishment.
LO: Message board shorthand for layout.
LSS: Message board shorthand for local scrapbook store.
---
Matchbook Scrapbook: They are what you might expect, especially if you've seen one. It's a scrapbook that looks like a matchbook. It will be bigger in size, though only slightly, to an actual matchbook and contains several sheets of paper for you to put pictures, stickers, quotes, journaling, etc. on whatever topic you'd like...
There is no specific use for them aside from being different from your "traditional" scrapbook. Just as people make scrapbooks out of paper lunch bags, badge holders and Altoids tins, someone thought it might be cute to make a scrapbook shaped like a matchbook.
One of the benefits is that you can use it as part of a larger layout, if you wanted to make your layout interactive. For example, you could put smaller pictures and/or journaling within the matchbook and use it as an embellishment, so you still have room for those photos that you wanted to feature on the layout. Other people use them as I described above as a stand-alone scrapbook that contains miscellaneous pictures of family/friends from a specific event or maybe just your favorite pictures of a person.
One drawback to any of these "outside the box" scrapbooks is that it's hard to protect the contents. It's not to say that they're not nice to look at and something different, but it's just something to consider.
You can make your own with only one or two sheets of paper or you can get a kit like the ones BasicGrey makes that will give you everything you need to make a matchbook with several pages. The BasicGrey kits come with sheets of die-cut shapes that you pop out and then assemble.
Mod Podge®: Don't let the funny name fool you, this is a highly versatile adhesive that can be used for any number of crafts - not just scrapbooking. Mod Podge® has been around since the 1960s and is manufactured by Plaid. It can be used to adhere paper, fabric, etc. to just about any surface and can also be used as a sealant when doing decoupage.
You can get Mod Podge in three finishes, matte, gloss and sparkle, and for those special paper crafts, they have also created an acid-free version called Paper Mod Podge®.
---
Paper Crimper: A handheld tool that gives paper the look of corrugated cardboard. Some crimpers also generate a wavy or heart pattern on your favorite paper.
Paper Distresser: See Edge Distresser.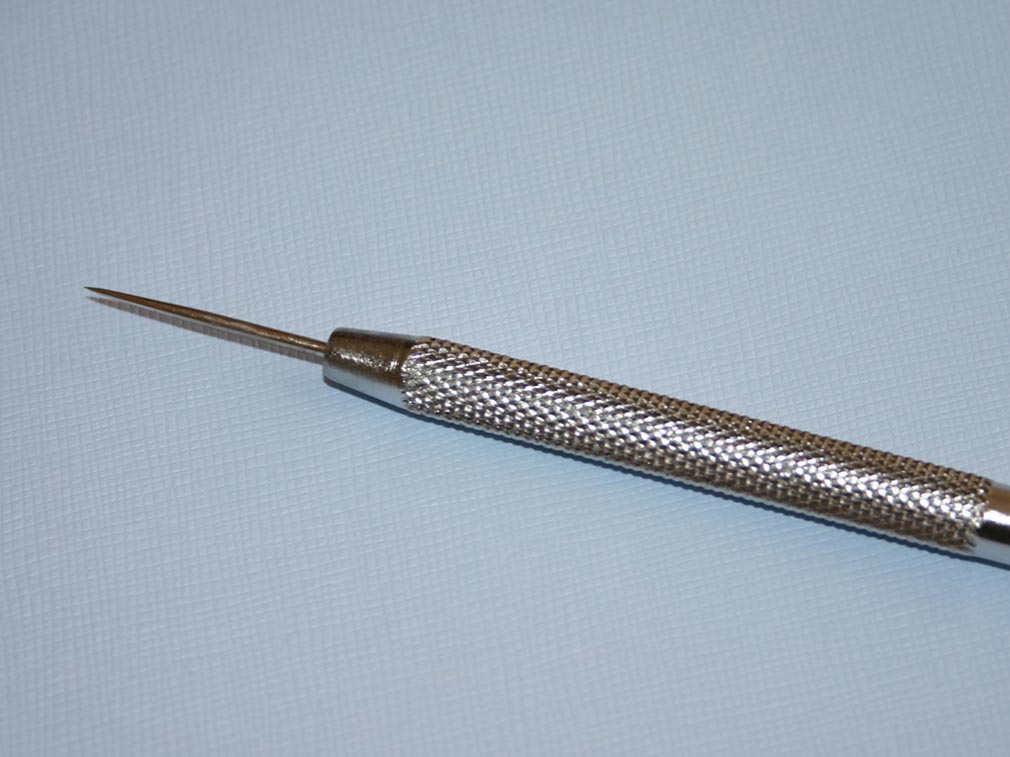 Paper Piercer: A paper piercer is a handheld tool that looks like a large needle with a handle. It works a lot like a hole punch, but on a much smaller scale. The purpose of a paper piercer is, as its name indicates, to pierce paper, but instead of creating an eraser-sized hole (like a hole punch), a paper piercer makes a pin-sized hole.
A lot of scrappers will use a paper piercer to make a hole in their cardstock when attaching brads because brads by themselves aren't sharp enough and have a tendency to rip your precious scrapbook paper. A paper piercer will make a nice pin-size hole in your paper for the brad to fit in. You can also use it to make starter holes for thread work, if you like to embellish your scrapbook layouts with fancy thread or ribbon. You can find paper piercers at about an arts and crafts or hobby store and even on Amazon. They're inexpensive and a must, in my opinion, in any scrappers tool kit.
Pantone®: They are the world-renowned authority on color and their color system is the standard "language" for mass graphic communications.
Photo Anchor: While they don't really "anchor" anything down, they do make a great embellishment for a photo or journaling mat. Photo anchors are shaped metal embellishments held down by a mini-brad (see photo for example).
Photo Mat: The easiest way to think about a photo mat is to think of a frame that sits behind your picture. They help to "ground" the picture and emphasize a specific color. They can be simple or complex (some pages are comprised solely of multiple photo mats).
A good rule of thumb for a single photo mat is to make it .25" bigger than your photo (e.g., to mat a 3" x 5" photo, you would cut a 3.25" x 5.25" piece of cardstock). Any additional mats would increase in size by .25" increments. But... You can also vary the size of your mats to show off some cool patterned paper or just to create visual interest. The choice is yours!!
Pigment Ink: Pigment ink is created using a color compound, so the ink is thicker, stamps the same color as the ink pad and dries slower than dye inks. As a result, pigment inks are great for embossing and are very fade resistant.
Primary Colors: Red, blue and yellow. These colors cannot be made by mixing other colors together, but they serve as the basis for all other pure colors (hues) in the color wheel.
Punch: It's easiest to think of a punch as a handheld die-cut tool. The one thing that sets them apart from the larger die-cut machines is that you can only "punch" one shape out of a piece of paper. Punches come in a variety of shapes and sizes.
---
QuicKutz®: A portable die-cut system with dies available in over 350 shapes, 19 alphabets and 15 embossing patterns. For more information about QuicKutz, click here.
---
RAK: Message board shorthand for Random Act of Kindness.
Ribbon Brad: It's a brad...and a ribbon slide...all in one. A ribbon brad has two thin slots cut out of the middle, so you can thread your ribbon through the brad and then attach it to your layout as you would a normal brad.
Ribbon Box: Ribbon boxes look like modified shoe boxes with holes punched in the side. Inside the ribbon box you will find dowels onto which you slide your spools of ribbon, then you thread the ribbon through the appropriate hole. The end result is a shoe box with a bunch of "spider legs."
CLICK HERE for more information on organizing ribbon.
Ribbon Charm: See ribbon slide.
Ribbon Slide: You might also hear this referred to as a ribbon charm (that's the name that Making Memories uses). A ribbon slide is an embellishment that you can use in conjunction with any ribbon you have on your scrapbook layout. You simply thread the ribbon through the slide. Some look like modified belt buckles, some have rhinestones, some are simple shapes and even others are words. They're a great way to accent your ribbon.
A ribbon slide is different from a ribbon brad in that it stands alone and does not have any method (other than glue dot that you would put on) by which you can attach it to your scrapbook layout.
---
Scrapbook: By its simplest definition, a scrapbook is a collection of memories, usually in photographic and/or written form (a picture does tell a thousand words, but sometimes it helps to embellish with words) bound in an album. Of course, these albums come in many shapes and sizes and the definition of a scrapbook "album" has morphed over the years from a ring-bound photo album (with those yucky sticky pages) to 12" x 12", 8" x 8", etc., all made with archival products. For more on how to make a scrapbook, check out this article!
Scraplifting: Copying one or more design elements (title, page layout, etc.) from someone's layout and using it for your own scrapbook pages. Fairly common among scrappers, especially when suffering from Scrapper's Block. As the saying goes... "Imitation is the most sincere form of flattery."
Scraptionary: Choubox's scrapbook dictionary and your #1 source for scrapbook definitions. Tired of bouncing from site-to-site to find all the answers to your questions? You've come to the right place!! I've done all the research for you, so you can spend your time on what is important...scrapbooking!
If for some reason we don't have a definition you're looking for, let us know and we will get it added to the Scraptionary.
Secondary Colors: These colors are made by mixing primary colors: red + yellow = orange, red + blue = purple and yellow + blue = green.
Shade: Commonly referred to when discussing colors. A shade is created by adding black to a hue (e.g., burgundy is a shade of red).
Shaker Box: A 3-D die cut embellishment with a see through overlay. They get the name shaker boxes because they are filled with beads, confetti, very small die-cuts, etc., so they make noise when you shake them. You can purchase shaker boxes completely finished, as is the one in the picture, or you can buy them almost finished, so you can add your own "shakers".
Sketch: A rough drawing of an object. In scrapbooking, sketches are often used as the basis for scrapbook layouts. A scrapbook layout sketch can provide a little, or a lot, of detail, but is intended to help get the creative juices flowing!
Snap: This embellishment looks just like a...snap. The one difference is that the backing of this snap looks just like that of an eyelet and is set the exact same way (with a hammer or automatic setting tool).
Swatch: A sample - whether it be a piece of paper or fabric. Scrappers commonly use swatches to color coordinate various elements of their layouts.
---
Tertiary Colors: These colors are created by mixing one primary and secondary color. Specifically, there are six tertiary colors: red-orange, red-violet, yellow-orange, yellow-green, blue-green and blue-violet.
TFS: Message board shorthand for Thanks for Sharing.
Tint: Commonly referred to when discussing colors. A tint is created by adding white to a hue (e.g., pink is a tint of red).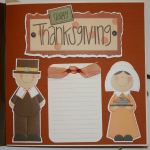 Title Page: Typically, when you make a scrapbook, you will organize it according to a specific theme (graduation, wedding, baby, etc.). So, much like a regular book, you will want to give it a title page so people looking at your scrapbook will have an idea at what they're looking at. Plus, it's a good use for that akward first, right-hand page that doesn't have a match.
You can take the idea of a title a step further and create sub-title pages throughout your scrapbook. For example, for a wedding scrapbook you could have sections with pages for the engagement, bridal shower/bachelor party (if appropriate), ceremony, reception, etc...
Tone: Commonly referred to when discussing colors. A tone is created by adding gray to a hue.
Toploading Page Protector: This is what you will typically find in a scrapbook album of any size (with the exception of mini-albums). They are called toploading page protectors because you load your finished scrapbook layout into the page protector from the top.
Tip: For information on why page protectors are so important, check out my Tips and Techniques article.
---
Vellum: Translucent paper that is available in a variety of colors (white, blue, silver, etc.) and patterns (lace, snowflakes, etc.). It's often used on wedding invitations and as journaling blocks on scrapbook pages.
Chou Tip: I love to use vellum as a journaling block over a picture. So...not only are you writing about a fantastic memory, but it gives you the ability to include another picture!
---
Washi Tape: Japanese paper (washi) tape is tape with a twist! It comes in a variety of patterns and widths and is a great way to embellish your cards, layouts....even birthday presents! It takes the sticky quality of tape, combines it with the great quality of patterned paper and is even a little see through like vellum - making for a fun and unique way to add to your crafts!
---
Xyron®: A tool used to turn just about anything into a sticker (or magnet). The Xyron uses two types of adhesive - permanent and repositionable. Higher-end models of this machine can also be used to laminate items without using heat.
Xyron 250: Makes stickers up to 2.5" wide
Xyron 500: Makes stickers up to 5" wide
Xyron 510: Makes stickers, magnets and laminates up to 5" wide
Xyron 900: Makes stickers, magnets and laminates up to 9" wide
Xyron 1200: Makes stickers, magnets and laminates up to 12" wide
Home > Scrapbook Articles > Scraptionary
---