Breast Cancer Scrapbook Layouts
My reason for creating breast cancer scrapbook layouts is personal. In 1975, my grandmother lost her fight against breast cancer and it has had a profound impact on me.
Fortunately, with increased awareness and improved treatments, we are starting to win the war against breast cancer. My mother-in-law, a breast cancer survivor, is living proof.
Is there someone special in your life that you would like to honor for their strength and courage? Have you recently participated in the Race for the Cure®, Breast Cancer 3-Day® or Avon Walk for Breast Cancer® and have memories that you would like to preserve? Check out my articles, pre-made breast cancer scrapbook layout kit and digital scrapbook paper below.
10% of each sale goes to the
Susan G. Komen Foundation
And...if what I currently offer doesn't suit your needs, just drop me a line.
From memorial layouts to a scrapbook capturing your memories as a participant in the Breast Cancer 3-Day® or Avon Walk, I'll be happy to work with you to come up with breast cancer scrapbook layout ideas, selecting the right paper, etc. You name it and I'll be more than happy to help!

---
Have you been recently diagnosed with breast cancer? Are you looking for a way to chronicle your battle against breast cancer? In this article, I discuss ideas on how to start a breast cancer scrapbook.
When I think of breast cancer awareness, I think of my paternal grandmother. She died of the disease when I was less than two months old, but left a lasting impression on me. I hope that by sharing some of my ideas, you too are able to celebrate your loved ones and scrap your support for a cure.
We all have different reasons why we scrapbook for a cause – mine is breast cancer. Clearly, there are hundreds, if not thousands, of community-specific fundraising events that you can participate in to support the search for a cure, but there are a few national events that thousands participate in every year.
In this article, I discuss different pictures and breast cancer scrapbook layouts that you can create to remember your participation in a fundraising walk.


---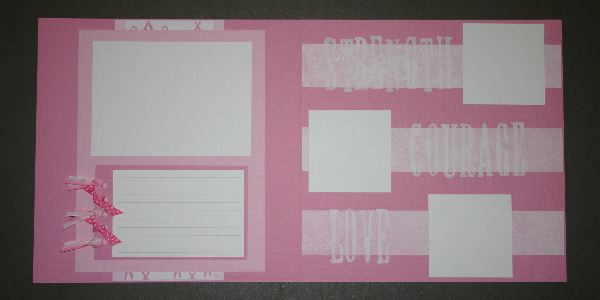 Strength, Courage, Love
$6.95 - SOLD OUT

It takes strength and courage, as well as loving support from family and friends to be able to stare breast cancer in the face and declare, "You will not break me!"

This layout is made in honor of all those who have fought, or are fighting, to beat breast cancer. It features a mat for one 5" x 7" photo (horizontal), three 3.5" x 3.5" photos and room for journaling.

Click on image for larger view.
---
So many of us out there are using digital cameras to capture our memories, which has spurred an interest in digital scrapbooking (where scrapbook layouts are created using computer-generated elements only). The great thing about digital scrapbooking is that you can use the paper and embellishments over and over, but you only have to buy it once.
Happy (Digital) Scrapping!!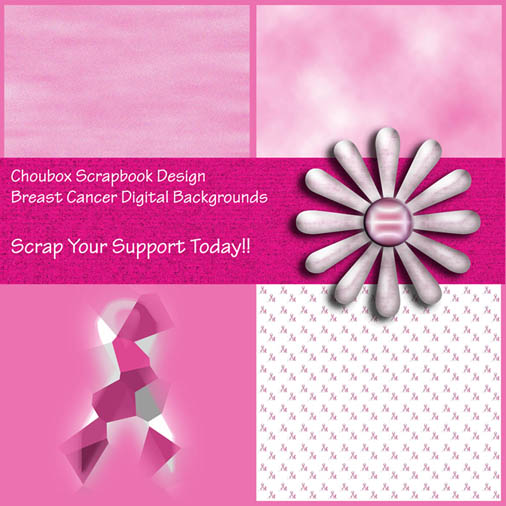 Breast Cancer Digital Backgrounds ($.50) Five Sheets of 12" x 12" Digital Scrapbook Paper and a FREE embellishment
File Details: 12" x 12" @ 300 ppi (zip file)