Mothers Day Gifts
When we're young, we love to make handmade Mothers Day gifts and our Moms love to get them.
So, for something completely different this year, why not try making a single 12" x 12" scrapbook layout to frame (see sketch below for an example)?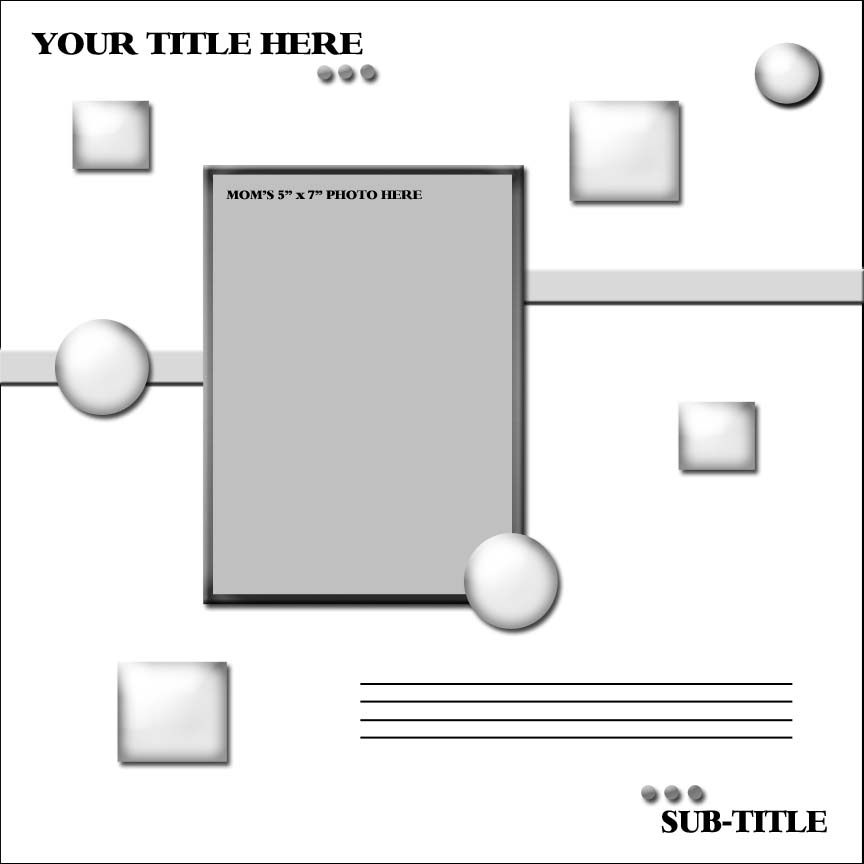 How Do I Scrap That?
Take a single photo of your Mom, have it enlarged (a 5" x 7" size print will work) and then decorate chipboard circles and squares with the "Top 10" reasons why your Mom is the best. Place the chipboard pieces around the photo, finish off the layout with some selectively placed ribbons, flowers or other embellishments.
OR...
You can replace the chipboard shapes with smaller pictures of all the important people (don't forget the pets) in Mom's life or you could do a combination of both - it's up to you!
Once you've finished your layout, put it in a scrapbook frame.
That's right…there are frames available at your local craft store (click here for an example) that are made specifically for the purpose of displaying scrapbook pages just as you would display a family portrait.
Now, as I stated earlier, what was the one thing that Mom always liked to get for Mothers Day?
A handmade card...and, whether you're a husband helping your children create a Mothers Day gift or a daughter who wants to send pictures of the kids to Grandma, I can help you design a scrapbook greeting.
As we've already seen, the scrapbook page possibilities are numerous when it comes to creating something for a Mothers Day gift. So...instead of just sending her an envelope full of pictures or even a link to your digital picture album, try sending her a keepsake - something that you could send her every month (not just on Mothers Day) - a Choubox Scrapbook Greeting.
What's this?... You've never heard of a Choubox Scrapbook Greeting! Well, it's pretty simple actually. It's a mini-scrapbook, a party favor, a thank-you note and an announcement – all rolled into one. Basically, I take handmade cards and kick them up a notch!
The great thing about Choubox Scrapbook Greetings is that they have multiple uses. You can decide to leave the outside of the envelope plain and mail your memories, or I can create an even more personalized greeting by decorating the envelope for use as a favor. If your family is spread across the globe, I can even create digital greetings for you to e-mail!
For more information about Choubox Scrapbook Greetings, just drop me a line!