Scrapping Formal Prom Photos


Formal prom photos… When you're creating a prom layout, the focal point is always going to be your "formal" photos – whether your formal shot is the one that gets taken in your backyard by dear old Dad or by a professional photographer at the dance.
You can choose to make your formal photo the only one on the layout or you can mix in some other pictures from the evening.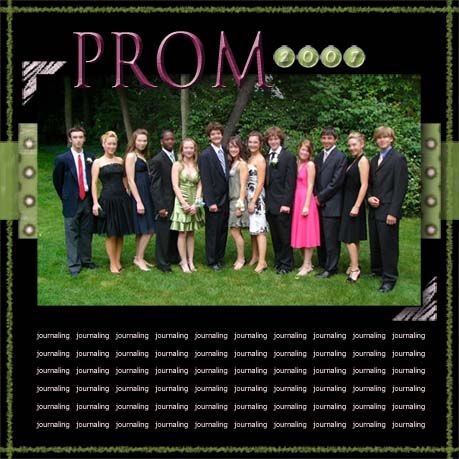 The first thing to consider is that your formal prom photo will (about 95% of the time) be vertical (group photos will obviously be an exception – as seen in this example). So, as with most one photo layouts, you're going to want to use a big picture.
If you like making 6 x 6 scrapbook layouts, you can use a 4 x 6 photo to make a big impact (and you'll still have room for a title). For the edge-to-edge look on an 8 x 8 or 12 x 12 layout, you can use a cropped 8" x 10" or 12" x 18" (sometimes considered a poster by most online photo processors), respectively. To get a real dramatic effect with this look, us a close-up picture and/or use a black and white image.
But, if you like to play with patterned paper and embellishments, you can always use slightly smaller pictures. These are a few sketches you can use for your formal prom photo layouts.
To spice up your layouts, consider using some of the following design ideas:
Black is the quintessential color when creating a scrapbook layout with formal prom photos. Not only does black go with everything...it is probably the most prevalent color of the evening.
Bazzill Basics has created an entire line of "bling" products to include papers (with names like Glass Slipper, Flirty and Sparkle), blossoms and brads.
When selecting patterned paper, keep it simple. Don't take attention away from your photos. Try using patterned paper that follows a similar pattern (if any) to your prom dress and contains the same color as the dress (along with black, of course).
Now, if you're interested in creating a prom scrapbook layout with more than your formal prom photo, check out this prom photo checklist for more ideas.
Happy Scrapping!